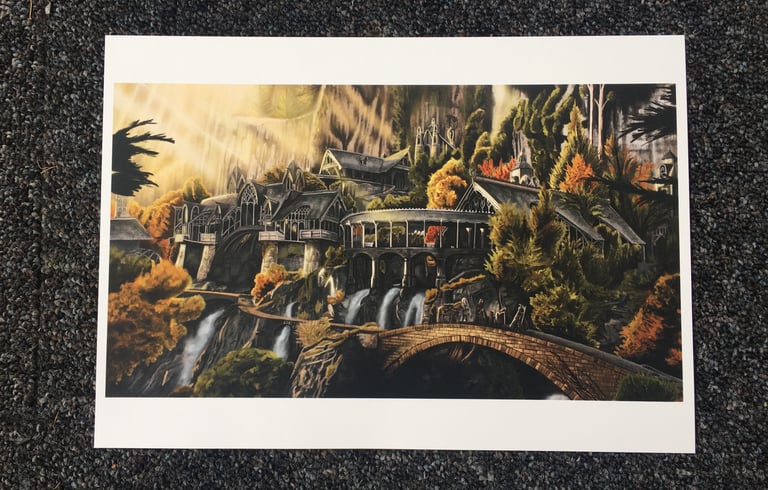 Product Information -
Hand drawn on Procreate and printed using archival inks that retain quality for decades.
My prints are printed locally by a family run print shop in a small village In rural England, so by buying a print from me, you are directly supporting two small businesses!
Paper and Print Options -
Giclée print
Giclée prints are printed on a printer that uses 12 archival ink cartridges for maximum vibrancy and detail. Choose between -
A 180gsm high quality poster paper with a matt finish and a vibrant white base.
A 270gsm high quality premium watercolour paper, with a textured finish and a slight off white colour, similar to a canvas.
Digital print
Digital prints are printed on a digital press printer using 4 inks cartridges. Still the same level of quality and detail, just slightly less vibrancy.
A 300gsm high quality silk paper, thick and sturdy with a very slight gloss finish to it
44x25.3cm for the full image
40x20 for a slightly cropped image
A4, A3, A2 and 50 x 70 sizes show the full image but have a bigger border at the top and bottom than they do at the sides, as per image 3 Size Options -
A4 - 21 x 29.7cm or approx 8.3 x 11.7 inches
A3 - 29.7 x 42cm or approx 11.7 x 16.5 inches
A2 - 42 x 59.4cm or approx 16.5 x. 23.4 inches
50 x 70cm or approx 19.7 x 27.6 inches
Delivery information -
Prints are packed in a protective plastic display wallet or wrapped in a tissue paper. A4 and A3 prints are sent flat in an board backed envelope. A2, 50 x 70cm and A1 sizes are sent rolled in a sturdy postal tube.
As a small business, most purchases are made to order.
Due to the current situation with COVID-19 in the UK my print and post office runs are less frequent. I am currently doing 3 runs a week. Orders are still made and dispatched within a maximum of 3 working days after order.
Other options -
Prints do not come framed as standard. For framing queries, please message me before ordering and I may be able to help by recommending a retailer or sourcing and supplying a frame with your order. Please note that supplying a frame will run an additional cost.
I do commissions! Please contact me to discuss any work you would like me to do for you.
Follow me on my socials!
Instagram - charlielunnart
Twitter - charlielunnart
TikTok - charlielunnart